SBB Aviaries
Aviaries
Diet
Our Parrots
Parrots for Sale
Contact us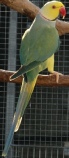 All birds are DNA blood sexed and closed rung unless noted otherwise.
Please note that not all birds listed have a picture. Please use our contact us page for specific bird picture requests if you cant see a picture on this page.
Air freight is available on all birds listed. Freight costs start at $90 for under 2kg (1 small box and a ringneck sized bird or under).
This service is Australia Wide only. We have do not have the capability to export birds outside of Australia.
Princess Parrot Mutations
None available currently
Malabar Parrots
2 yr old female $300

Thanks for looking.
Updated - 22-07-19
Any enquiries please use the contact us page.

2016 Indian Ringneck Mutations
Cobalt cleartail female $250 Proven birds SOLD
Mature Indian Ringneck Mutations
Violet green cleartail split blue male x Blue cleartail female breeding pr $300

2017 Indian Ringneck Mutations
Cobalt split cleartail (possibly split opaline) male $100
Blue Split Cleartail Female $40
Blue Throat Conures
Parent raised 2018 birds - DNA sexed Male - $300

Quaker Parrots
Breeding pair
Cobalt male x Blue female $500 proven breeders bred last yr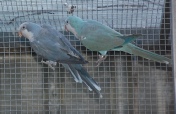 2018 Indian Ringneck Mutations
Cobalt split cleartail (possibly split opaline) males $80 ea
Cobalt split cleartail male $80
Blue Cleartails $60 ea
Emerald cobalt cleartail female $650
Cobalt cleartail females $150ea
Pastel cobalt cleartail male $200
Pastel cobalt violet cleartail male $200
Emerald split cleartail male $150
Paste blue cleartail male $150
Violet green cleartail male $150